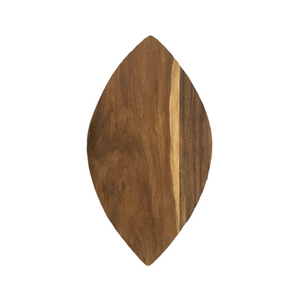 Handmade teak root leaf serving tray made by artisans in Indonesia. Teak wood has natural oil and rubber that makes it perfect and long lasting for kitchenware. This tray would be perfect for a fruit tray, decoration tray, centerpiece.

Size: 16 inches long x 8.5 inches wide

Teak wood is native to the tropics and is very commonly found in Southeast Asia and especially in Indonesia. Teak wood is one of the most valued and most expensive compared to other woods, such as acacia, pine or oak. Teak wood has high amount of natural oil and rubber and is more weather-resistant than other woods. This is why you'll find teak wood more commonly used as outdoor furniture or kitchenware.
You can also use this teak wood bowl as tray decoration or shelving decorations.