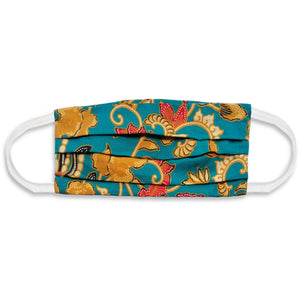 This is a washable rectangle batik face mask handmade by artisans.
Color: Green
One layer fabric when expanded. Also has a second layer for pocket for filter.
This is made of printed batik fabric.
No nose wire.
If available, option Adjustable Strap means the face masks elastic has adjustable ear toggle.
Regular Size: 8.2" wide and 3" tall, can be expanded up to 6.6".
Large Size: 8.2" wide and 3.5" tall, can be expanded up to 7.2".
100% tightly woven cotton fabric with batik prints.
Has pocket for filter. Filter is not included in this sale.
Machine washable in cold and air dry. Wash batik face masks separate from other garments.
No returns or exchanges on face mask.
This is a non-medical grade face mask. They are not intended for use in a medical or clinical setting, nor are they meant to replace medical-grade PPE and measures recommended by the CDC. They are designed for adult use only and should not be worn by anyone with breathing or respiratory conditions or those unable to remove a mask without assistance.
"You do want to use a woven fabric, like batik." - NBC News
"You want thick, tightly woven cotton like the kinds used for quilting or batik. - New York Magazine"
Note: Due to variations of pattern on batik fabric, the final fabric maybe different from the ones pictured.
Shrinking
Lovely masks unfortunately they tend to shrink after each wash! And the rectangles should have a small nose wire as the red one I also bought.
Batik Face Masks
Great! Very stylish. I ordered them for a special event and they were a hit! Also able to put a liner inside the face mask. A little on the expensive side.
Pretty but rough.
Very pretty design but the fabric was rough against my face.