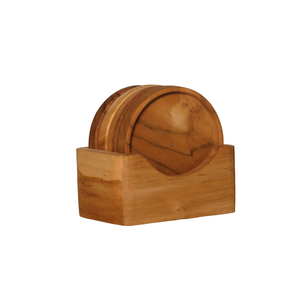 Handmade teak wood drink coaster made by artisans in Indonesia. Teak wood has natural oil and rubber that makes it perfect and long lasting for kitchenware.

Sold as a set of 4 and a coaster holder.
This coaster does not have any logo on the coaster holder.

Diameter: 3 7/8" width with internal diameter for cups/glass of 3.5"


Teak wood is native to the tropics and is very commonly found in Southeast Asia and especially in Indonesia. Teak wood is one of the most valued and most expensive compared to other woods, such as acacia, pine or oak. Teak wood has high amount of natural oil and rubber and is more weather-resistant than other woods. This is why you'll find teak wood more commonly used as outdoor furniture or kitchenware.

The oils and rubber in teak wood prevent parasites or fungi to grow and it also doesn't need application of weather-proof oil or treatments. As it weathers over time, the wood goes from a honey brown color to a silvery gray. In caves in Western India, objects made from teak more than 2,000 years ago have been found intact. This initial investment on spending on teak wood would make sense if you compared to replacing the kitchenware over time.



Fast shipping and just as described!
Lovely!
Just as described and very fast shipping. Thanks!