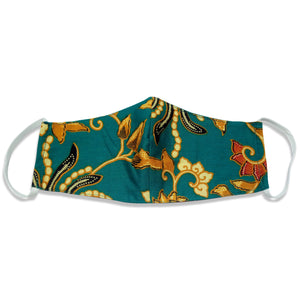 "The best-performing design was a mask made with thick batik fabric." - The New York Times
This is a Bali collection washable three layer batik face mask with pocket insert and elastic strap around the ears.

- Color: Green
- No nose wire. No adjustable toggle on ear strap.
- Bali Collection is a new design with a more curved top for better visibility and shortened elastic band to fit regular size face.
- Regular Size: 8'2" width and 2.5" side height with middle width of 4.75". Each elastic ear loop is 5"
- Three layers batik face masks. Made of 100% cotton batik fabric. Total of three layers fabric including the pocket layer.
- The inner layer has an inner pocket for adding filter. Filter is not included in this sale.
- Washable and reusable face masks. Machine washable in cold and air dry. Wash batik face masks separate from other garments.
No returns or exchanges on face mask.
This is a non-medical grade face mask. They are not intended for use in a medical or clinical setting, nor are they meant to replace medical-grade PPE and measures recommended by the CDC. They are designed for adult use only and should not be worn by anyone with breathing or respiratory conditions or those unable to remove a mask without assistance.
"You do want to use a woven fabric, like batik." - NBC News
"You want thick, tightly woven cotton like the kinds used for quilting or batik. - New York Magazine"
Note: Due to variations of pattern on batik fabric, the final fabric maybe different from the ones pictured.
Bali Collection Batik Face Mask - Red
I love the beautiful lightweight fabric, which is all I can say good about it. The mask isn't a good fit, at lease not for me. My nose feels smashed, while at the same time it feels sloppy under my eyes. It gaps on both sides. Disappointed to spend $15 on a mask I can't use.
BaliCollection Batik Face Mask - Green from ou
Beautiful material but too narrow. Needs more nose and chin coverage. Your pleated masks are much more comfortable and are worn often!
Masks matter
Ear loops make it easy to wear and shield shape helps keep my glasses clear. I love both patterns and that it is reversible.
my daughter loves her masks and I love mine!