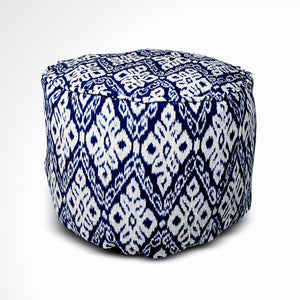 Handmade ONE ikat pouf ottoman cover with Dark Blue pattern.
Pouf is sold without any insert.
* This is made from Ikat Troso, Jepara, Java, Indonesia.
* The bottom of the pouf is a black cotton fabric to complement the top and sides ikat pattern.
* These pillow cases were handmade in Indonesia from handwoven ikat cloth.
* Each fabric is selected carefully and then cut to best showcase the ikat patterns into a perfect pouf.
* Comes with a separate inner pouf lining and zipper closure so you can clean the outer pouf case from time to time.
Material:
* Cotton
Size:
* 20inches round diameter x 13.5inches height
Care:
* Spot clean stain with mild detergent and water or dry clean
You may fill the poufs with either polystyrene beans or Polyester Fiberfill (takes about 6 to 8 bags of 20 oz to fill one) or newspapers or old bed sheets and old clothes. To fill it up, put the inner pouf lining inside the pouf cover. Start filling the inner pouf filing with your choice of inserts. Start with the sides of the pouf before filling in the center.
Because of the handmade nature, each pillow cover is slightly different but using the same ikat fabric shown here.
There maybe some slight variation on sizes stated above because of the handmade nature.
-----
Blue Pouf, Blue Ikat Pattern, Blue Ikat Pouf, Blue Ottoman, Blue Floor Cushion, Blue Pillow
Decorative Pillow, Pouf, Cotton Pouf, Pillow Cushion, Ikat Cushion, Floor Pillow, Boho, Bohemian, Boho Pouf, Bohemian Pouf, Boho Ottoman, Bohemian Ottoman, Pouf Ottoman, Ikat Pattern Pouf, Ikat Ottoman, Ottoman, Handmade Pillow, Handwoven Pillow, Home Decor, Christmas Gift, Woven, Holiday Pouf, Handmade Pouf, Handwoven Pouf, Ikat Ottoman, Ottoman, Ikat Pattern Pouf, Floor Cushion, Floor Pillow, Batik Pillow, Ikat Pillow, Batik Pillow Cover, Ikat Pillow Cover, Boho Floor Cushion, Poufs and ottomans, poufs, morrocan pouf, bohemian decor, kilim pouf, batik pillows, ikat pillows, turkish pouf, kilim ottoman, ikat pillow handmade, kasih coop
I love my poof! It
I love my poof! It adds the perfect amount of color and contrast to my living room. The material is of good quality. I will likely order another for my office.