Elevate Your Holiday Table Setting with Our Tabletops
As the season of gratitude approaches, there's no better time to embrace the art of table setting. This year, let's go beyond the traditional and dive into the world of Indonesian artisanal goods with Kasih Co-op's exquisite collection of tabletop linens.
Our collection of placemats, napkins, and salad bowls is curated to elevate your dining experience, by partnering with our Indonesian artisans to handcraft each item.
The Perfect Foundation: Placemats
Start your Thanksgiving table setting on a strong note with our meticulously crafted placemats. Whether you prefer the classic charm of the coastal seashell placemats or our farmhouse style rattan placemats, our placemats are designed to add a layer of warmth to your table. 
Hand-dyed Elegance: Napkins
No holiday table is complete without the soft touch of our cotton napkins. Kasih Co-op's napkin collection are all hand-stamped using batik wax and dye method. 
Serve in Style: Salad Bowls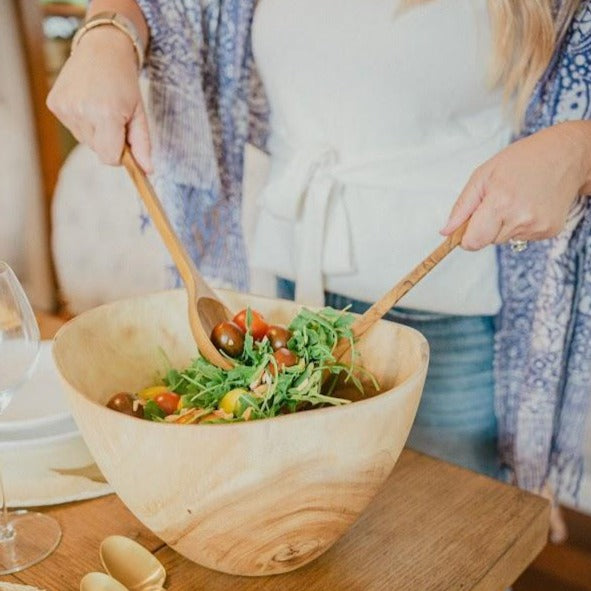 Make a statement with our wooden salad bowls that seamlessly blend functionality with style. Our salad bowls are hand-turned using certified legal wood sourced from Indonesian government. Elevate your Thanksgiving feast with these unique pieces that are as beautiful as they are practical. 
Weaving Gratitude into Every Thread
At Kasih Co-op, we take pride in weaving gratitude into every thread. Our products are crafted with care, working with our Indonesian women artisans.
This Thanksgiving, embrace the warmth of timeless elegance with Kasih Co-op's tabletop linens. Elevate your table setting, create memories, and let gratitude be the centerpiece of your celebration.
Featured Products